The NBA serves well as a nightly showcase for athleticism, flashy plays and occasionally great team work. However what about the players who show off the league's less than graceful side? It's a wonder how these following players constantly go against the grain in a sport where coordination remains paramount. Then again, most of the following candidates are millionaires so we guess they get the last laugh?
Veteran status and gobs of money don't excuse them from looking goofy, though. Here are our seven hilariously awkward NBA players of the moment.  Mark your calendars whenever their teams come to town as you'll be in for some laughs along with head scratching moments.
Brook Lopez

Brook Lopez is enjoying an All Star year after nursing a season long foot injury. Yet, thanks to posts like this, his progress is set aside since he's such a doof. He's seven full feet of calamity fitted with savvy, or some would say aggravating, motions to draw falls in the post. At least he's one of the few centers who can actually catch passes and put the ball in the hoop.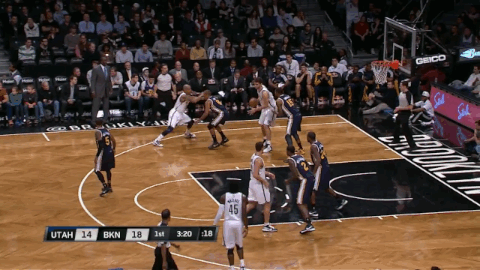 Chris Bosh

Chris Bosh is the Miami Heat player everyone loves to hate (besides LeBron James). He won't be the low-post monster sports writers prefer. At the same time, he won't stop making weird cues for alley oops all while bombing postgame interviews.
JaVale McGee

Well this was an inevitable selection.

A change of scenery from the Wizards' no-accountability culture to Denver's "We're pretty good but not contenders" vibe has been beneficial for McGee. However, he still hasn't shed his Constant-Fail JaVale tag: routinely making boneheaded plays and even doing the right things in the worst possible ways. There's a hint of potential in his game and he's a raw athlete. Too bad all his upside is buried under a whole lot of stupid.
Nick Young

Bringing up Javale's fellow Washington Wizard alum, Nick Young, provides a great segue to discussing "Kobe Complex." See, Kobe Complex is a rampant mental disorder among mediocre NBA players who think they can convert heaps of difficult shots like Kobe Bryant. They often times yield bricks, shoot their clubs out of games and rarely come down to earth. Nick Young's Kobe Complex is only rivaled by J.R. Smith, yet J.R.'s hair doesn't look like burnt broccoli every time he pulls up. And so, ladies and germs, that's why Nick Young makes a cameo here.
Robert Sacre

The Lakers' newest bro cheerleader has been a bright spot on the bench on the otherwise struggling squad. Yet, when he actually gets playing time, it's best to turn away. Let's be nice and say Sacre's a "young talent in need of development." Yup, that'll work.
Shawn Marion

Shawn Marion shoots the ball like a kid in gym class who'd rather be reading in the library. Then again he's a veteran now so all we can do is sit on the sideline and hate…which is what we'll keep doing until he hangs it up. Oh yeah, his crooked ass finger makes him weird, too.
Ronnie Brewer

Ronnie Brewer has never been mistaken for a sniper but his performance from the field this year has been horrid. Brewer's key use as a perimeter defender remains evident. Then again, looking like a lost member of "Fat Albert and the Cosby Kids" while regularly putting up bricks helps him make the cut on this list.

 

+ Follow Guy Code on Twitter, Facebook and Tumblr
Sam Cadet is a semi-pro writer and one of the Gen-Y kids not on Twitter.