Photo: BuzzFeed
Even in the No Fun League, there are opportunities to let loose, dance or playfully taunt the opposition. Above, J.J. Watt takes Aaron Rodgers' title belt and chucks it like a cheap piece of leather. You can get away with that if you're the likable, mammoth 6' 5" 300-pound league leader in sacks and passes swatted.
Previously we rounded up the most acrobatic plays of the 2012 regular season and the most embarrassing plays and now present the best celebration dances, with a double dose of Jacoby Jones and triple shot of Von Miller. Giddy up.
Kyle Vanden Bosch elects to keep his belt on against the Vikings

Photo: SB Nation
Jason Hill does hopscotch then Jeremy Kerley delivers the dice

Photo: BuzzFeed
LINEMEN SECTION
Domata Peko is "Gangnam Style" oh oh oh oh

Photo: mocksession
Dolphins DE Jared Odrick's Pee Wee Herman dance

Photo: imgur
Ziggy Hood's sexy dance

Photo: SB Nation
*      *      *
Henry  "Hynocerous" Hynoski's Rhino dance
Photo: thebiglead 
Stevan Ridley ... kicking a door down?
S

Photo: SB Nation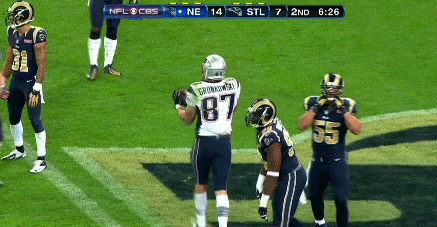 Photo: bleacherreport
Kyle Rudolph's "The Ice Auger"

Photo: iminus
Donald Jones's 'Apache (Jump On It)' celebration

Photo: SB Nation
Clay Matthews' Dirty Dancing

Photo: thebiglead
Interim head coach, full time dance prodigy

Photo: imgur
Jacoby Jones, born to dance

Photo: cjzero
Jonesing...

Photo: SB Nation
THE VON MILLER SECTION
Part I

Photo: SB Nation
Part II

Photo: cjzero
Part III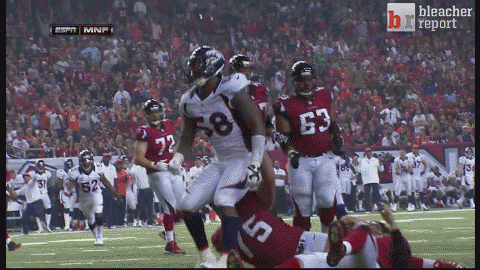 Photo: bleacherreport
Steve Smith's still got it
+ Follow Guy Code on Twitter, Facebook and Tumblr
Check out all of MTV.com's Best Of 2012 content
Check out more highlights from "The Big & Best of 2012: A Year End Celebration Presented by T-Mobile"
GIFs: 20 Most Acrobatic Plays Of 2012 NFL Season
GIFs: The 20 Most Embarrassing Plays Of The 2012 NFL Season
Top 10 Biggest Fantasy Football Busts Of 2012