Photo: Deadspin
Whooooooeeeeee!! Every season without fail, NFL players serve up dozens of acrobatic moves that straight video alone won't satiate the need to marvel. The cream of this year's crop incude one handed grabs, fancy footwork, incredible quarterback scrambles (with regrets to statuesque Joe Flacco, Matt Schaub and others), helicopters and hurdles. Props to SB Nation, Deadspin, The Big Lead, Bleacher Report and others who dropped the majority of these GIFs. They appear below in no particular order, although we felt compelled to give cover honors to Vic Ballard and his backwards spinning leap.
Joe Morgan sees the Bucs' creamsicle uniforms and raises ninja moves

Photo: SB Nation
Apparently Saints players learned  jiu-jitsu (Darren Sproles here)

Photo: deadspin
Russell Wilson proving he doesn't need offensive linemen

photo: bleacherreport
Best pass by a Cardinal all season
Philly's Jason Avant reels one in

Photo: bleacherreport
Stevie Johnson can play that game too

Photo: thebiglead
Footwork of art

Photo: losthatsportsblog
"Quizz" Rodgers takes the Cowboys to school

Photo: sbnation
On a dime

Photo: SB Nation
Just a typical 4th and 10 play with RGIII

Photo: SB Nation
Nice hands on Texans' Quin Glover

Photo: SB Nation
Ditto for Reggie Wayne

Photo: SB Nation
Ed Reed gets hurdled Part I

Photo: the700level
Ed Reed gets hurdled Part II

Photo: thebiglead
Style points for David Wilson

Photo: gifsection
Percy Harvin fools the Titans twice

Photo: SB Nation
Reggie Bush's balancing act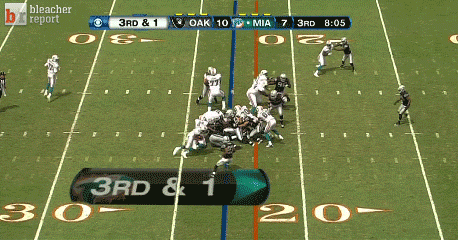 Photo: bleacherreport
Redskins fans stopped breathing until RGIII stuck the landing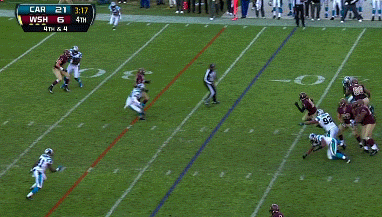 Photo: bleacherreport
Riley Cooper proving (some) white guys can jump

Photo: Deadspin
+ Follow Guy Code on Twitter, Facebook and Tumblr
Check out all of MTV.com's Best Of 2012 content
Check out more highlights from "The Big & Best of 2012: A Year End Celebration Presented by T-Mobile"