Credit: Diane Bondareff/Associated Press
Boston Red Sox first baseman Adrian Gonzalez is one hell of a ball player. In 2011, AGon posted 27 homers, 117 RBIs and an impressive .338 batting average all the while making it look way too easy for us mere mortals. When we got wind that Gonzo is this year's cover athlete for the highly acclaimed video game MLB 12-The Show, we were hardly surprised.
MTV Clutch caught up with Boston's strong man along with New York Yankees pitcher CC Sabathia at the Sony Style store in Midtown Manhattan. Along with checking out the new title, we had a chance to speak to both of them about the video game, being in the room with their "rival" and even superheroes.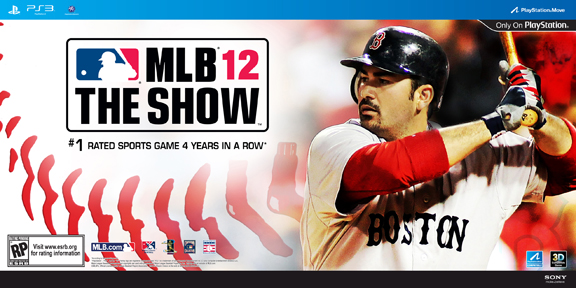 MTV Clutch: First off, congratulations on being named cover athlete for the most popular baseball video game around.
Adrian Gonzalez: Thank you so much, it feels great to be part of something this great and it is a big honor.
It was really amazing to learn how they do everything to make the game what it is…how they made everything so realistic from the videos to the motion capture. It is the highest rated game in sports for a reason.
How often do you play the title?
I play often. I like to play the game so that I can get to know the other players and how they are in the game.
Do you ever find yourself playing as another player or another team?
Not really. I like to play as our pitchers and get to know how they throw. I also like to have the ability to make up some pitches and see how they turn out.
Do you use the PS Move technology or are you an old-school gamer who uses the controller?
Both. The younger kids want to use the Move controller, so when I play against my cousins and nephews I use them. When I play against people of my generation, we tend to use the controllers because that is what we were always used to. I grew up with the Super Nintendo as well as the first generation of the PlayStation.
Do you feel that you were portrayed realistically in the game?
The way I talk to the umpire and how I talk to the first base coach is dead on. This is something I do often. I am not a guy that just sits at first base and stays quiet. For them to capture that aspect of me is amazing. They really paid attention to all my looks and the way I am after I hit a ball and things like that.
How does it feel to be in the same room with one of your arch rivals, CC Sabathia?
(laughing) It is fine. I mean, you can be friends off the field, once we get inside the diamond, I want to hit a home run against him and he wants to strike me out. That's the way it goes. The game has changed so much that everyone gets to knows one another.
If you could have a superhero feature built into the game for you, what would you want?
Umm, I think the ability to know what pitch the pitcher was going to throw. It would be great to get into the pitcher's mind and know what pitch was coming next.

Credit: Diane Bondareff/Associated Press
MTV Clutch: We hear you're a gamer, what do you like to play?
CC Sabathia: Different games, I play MLB-The Show, Call of Duty, NBA2k 12…I like a lot of different games.
We heard some inside info that you have a custom PS3. Is this true?
It's pretty cool. It's all wood-grain with custom headphones. Any chance to have a custom PS3 is pretty cool. I will be whipping that thing out to play any chance I get.
Do you feel that your abilities were portrayed realistically in the game?
Yeah, they even made my pitches better in the game then they did in real life (laughing).
MLB 12-The Show"drops on March 6 for PS3 and PS Vita.